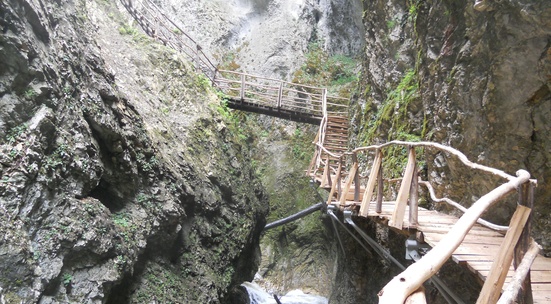 Take part in a trail marking expedition in the Rhodope Mountains
What?
The "Devil's Trail" is a new trekking route of stunning beauty and a real challenge to all hikers in the Rhodope Mountains. Built last summer by the volunteers of the Bio-B-Eko association, the trail connects the village of Borino with the Yagodinska cave, passing through the "Devil's Bridge". To secure the safe passage of tourists, additional marking is to be placed in April, especially in the areas rated as "difficult terrain".
If the paragraph above sounds like an adventure you are eager to join, the trailblazing team will be happy to meet you in the weekend of 23-24 April. You will be actively involved in:
hiking along the trail to identify potential risk zones;
placing markers, trail signs and info boards;
marking the habitats of protected animal and plant species (such as the "Orpheus flower")
You need to commit to both days of the expedition.
The production of markers and info boards is financed by the TimeHeroes Microfund.
Organizer?
Bio-B-Eko Association.
Why?
Thousands of tourists will be grateful to make it safe through the "Devil's Trail", because of you.
Where?
The Rhodope Mountains, district of Smolyan, village of Borino (+ photos of the trail).
Skills needed?
Hiking experience on moderate to difficult terrain.
Necessary equipment?
Hiking clothing and shoes, rain boots and raincoat, work gloves.
Transport?
Transportation from the village of Borino to the "Devil's Trail" will be provided. All volunteers are expected at 9:00 a.m. on 23 April (Saturday) in front of the Info Center in Borino.
Food?
The organizers provide some packaged food, mineral water and fruit. The trail is close to the village where you can take care of the rest.
Accommodation?
The organizers can arrange for overnight accommodation in Borino ranging from 12 to 20 BGN per bed, depending on the category and the number of people per room. Details will be further discussed with the volunteers who sign up.
Health risks?
Join this mission only if you know you can handle difficult mountain terrain. The organizers trust your sound judgement. All volunteers will have a safety briefing on the spot.
Bad weather?
If the weather does not allow for trail marking, volunteers will be offered to help in the activities at the Info Center in Borino.
How do I take part?
Click the green "I will do it" button to see how to sign up.
// image courtesy of the organizer
Sign up by 18 April 2016
The mission is from 23 April 2016 until 24 April 2016
Registration closed
Stories
Once a mission you participate in ends, you can tell us how it went in a couple of sentences ("it was great" won't do).
It's simple: after the end we send you instructions - follow them. This way you earn points and rise in rank , others get inspired and we're all happy.