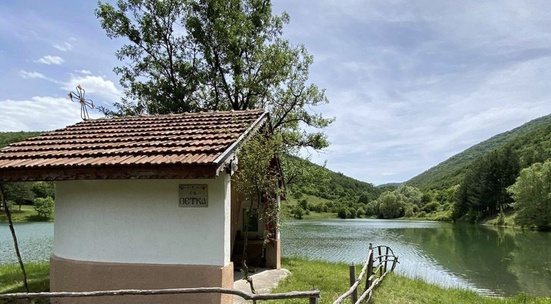 Participate in the cleanup of Smolsko dam and St. Petka chapel
What?
Smolsko dam is located at the Ihtimanska Sredna Gora, and the distance from the heart of Sofia to its shore is only of 55 km. That is the reason why it is a great destination for a weekend walk, picnic or just a picturesque detour from the Sub-Balkan Road, which runs along very close to it.
For Antoni Boychev and a group of his friends it is a favorite place to be at, and their frequent visits there led them to notice that the dam and the chapel "St. Petka" next to it need to be freed from the accumulated over time waste.
And not only that - there are various small things that need to be fixed, and the plan also includes placing new signs and assembling a bench. That is why they turn to you for help – will you support this awesome team?
What would be my role?
Become a part of the volunteer team, which on the 24th of April will roll up theirs sleeves to free the shores of the dam from the accumulated garbage, so that every next visitor would like to keep it in this "wow" state.
The activities in which you can participate are the following:
Collection of cigarette butts, bottles, cans, straws and other small but annoying garbage.
Repair of a fence located in the area.
Placing information boards.
Assembling a bench.
Other supporting activities, if necessary.
When?
The event will take place on 24th of April (Saturday), from 10:00 a.m. The end time depends on the satisfaction with the work done.
Where?
The meeting point is the old bench on the shore opposite the chapel at 10:00 am on the 24th of April.
Who is organising it?
Why participate?
First, you will contribute to the perseverance of the nature of a beautiful place. Second, you will get to know this oasis in the mountains in a slightly different way and you will leave something nice behind. Third, you will spend a nice day out and go home knowing that you did something good today.
Skills needed?
Enthusiasm to work with your hands and from the heart.
If you have any experience with assembling various things and are ready to get involved in activities with more manual labour, it will be great, but it is not necessary.
Equipment needed?
Put on clothes that you don't mind getting dirty or tearing
Step in those shoes that have proven themselves as comfy and durable.
Be sure to bring along a pair of working gloves or at least rubber ones.
In case you own a hammer/adze/saw, please have them with you - they will come very in handy.
Bring something to eat and most importantly - water.
In case of bad weather conditions?
"Plan B" is activated - the mission is postponed for a nice cloudless day.
Transport provided?
There isn't any. You have to use your own transportation, the distance from Sofia is about an hour.
Health risks?
The risks of an accident during cleaning fall into the "Insignificant" column, but still be careful, especially if you are handling an adze, a hammer and especially a saw.
And one more thing - do you know who lives around the dams? Yes, lots of mosquitos. It is a good idea to bring along a spray against potential attacks from them.
Age requirements?
No, even the youngest enthusiasts are welcome.
How to participate?
Shoot a message to the organizers on their page and press the green "I will do it!" button for more details.
// the image is provided by the organizer
23 April 2021
The mission will take place on 24 April 2021
Registration closed
Stories
No stories published.
Once a mission you participate in ends, you can tell us how it went in a couple of sentences ("it was great" won't do).
It's simple: after the end we send you instructions - follow them. This way you earn points and rise in rank , others get inspired and we're all happy.