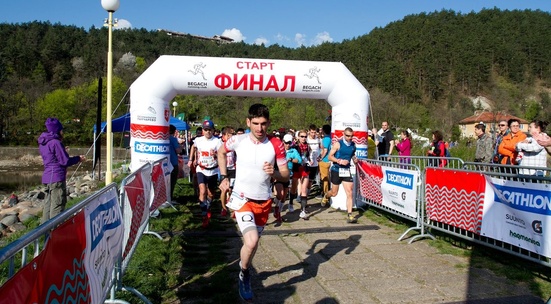 Help in the organization of Pancharevo Trail Marathon 2016
What?
The Pancharevo Trail Marathon will happen for the fifth time on Sunday, 24 April, and this year it will hold three races - 10 km road race, 21.1 km trail half marathon and 43.2 km certified trail marathon with total ascend of 1580 m. More than 500 people will run by the Pancharevo lake near Sofia to support the charity campaign Operation "Spare Change" and raise funds for the "House of Opportunity" program for youngsters from social institutions. VIVACOM has pledged to double the amount each participant donates at registration.
Volunteers are needed to help in the organization before and during the event:
23 April, 10:15 am - 08:00 pm, Vivacom Art Hall
prepare race packs (in two shifts);
24 April, 06:00 am - 05:00 pm, Pancharevo
help set up the start zone and running track;
assist runners at the start, the finish and the turning point of the 10 km trail;
24 April, 07:00 am - 05:00 pm, aid stations, Lozen mountain
hand out refreshments to the participants;
provide other aid, if needed;
previous experience in mountaineering and/or running is a plus; transportation to and from the stations will be provided.
Prior registration is required for all volunteer positions. Click the "I will do it" button to find out the details.
Make sure you are also available for a 30-min briefing on 23 April, Saturday, at 12:00 am.
Organizer?
Begach Running Club is a non-profit public-service NGO, member of the Bulgarian Athletics Federation and organizer of some of the most popular running events in Sofia and the country.
Why?
The club aims to promote amateur sports and a healthy way of living. All events they organize have a donation cause and connect sport and charity.
Where?
Sofia, Pancharevo lake, Lozen mountain.
Necessary equipment?
Wear a comfortable and weather-appropriate outfit. You will receive a t-shirt from the organizers.
Food?
Refreshments will be provided at the event. And then there's the traditional Pizza Party for all volunteers a couple of days later.
How do I take part?
Click on the green "I will do it" button and follow the instructions.
// image courtesy of the organizer
Apply by 20 April 2016
The mission is from 23 April 2016 until 24 April 2016
Registration closed
Stories
No stories published.
Once a mission you participate in ends, you can tell us how it went in a couple of sentences ("it was great" won't do).
It's simple: after the end we send you instructions - follow them. This way you earn points and rise in rank , others get inspired and we're all happy.