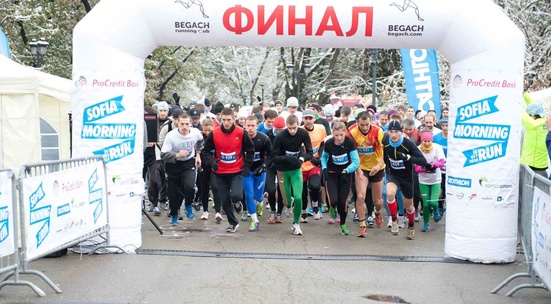 Support the organization of Sofia Morning Run 2015
What?
Sofia Morning Run is a running race organized by Begach Running Club for a fourth consecutive year. The start will be given in the Borisova Gradina park at 9:00 on November 1. The distances to be covered are 5, 10 and 20 km. Accompanying the main event, there will also be a children's competition, Kids Run, held in accordance with the approved program of the International Association of Athletics Federations.
The event is seeking volunteers to help with the organization, as follows:
October 31, 10:00-21:00, Vivacom Art Hall
starter packs preparation (shifts from 10:00-15:30 and 15:30-21:00).
November 1, 7:00-14:00, Borisova Gradina
start zone and running track preparation;
assistance to participants during the competition;
assistance with Kids Run;
packing up after the race.
You may sign up for just one day or one shift.
Organizer?
Begach Running Club.
Why?
Begach Running Club promotes amateur sport and a healthy way of living, and believes that running, charity and business have the opportunity to work together. The cause, which Sofia Morning Run supports, is run under Vivacom's "Small Change" program and aims at purchasing equipment for the new "House of Opportunity" (link in Bulgarian) in Sofia - a place for young people from social institutions who are forced to leave after they reach 18 years of age.
Where?
Sofia. October 31 - VIvacom Art Hall (4 "Gen. Joseph V. Gurko" Street); November 1 - Borisova Gradina.
Equipment needed?
Dress warm and comfortable. You will receive a t-shirt or a vest from the organizers.
Food?
Refreshments provided.
How to participate?
Press the green "I will do it" button and see how to get in touch with the organizers.
// image courtesy of the organizer
Sign up by 27 October 2015
The mission is from 31 October 2015 until 1 November 2015
Registration closed
Stories
No stories published.
Once a mission you participate in ends, you can tell us how it went in a couple of sentences ("it was great" won't do).
It's simple: after the end we send you instructions - follow them. This way you earn points and rise in rank , others get inspired and we're all happy.