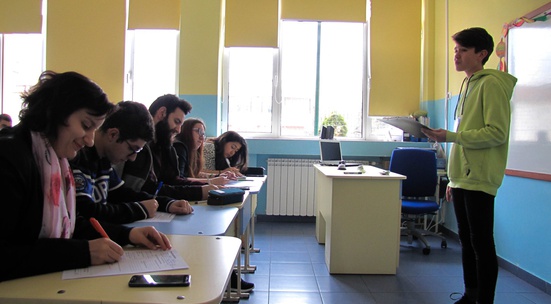 Judge an online speech and debate competition in English
What?
BEST Foundation is continuing to work for a seventh consecutive year, driven by the main idea that developing young people's attitudes towards speech and language is a successful way of improving the social environment.
To prove that, the team has brought together a community of socially engaged and proactive students from across the country, who take part in public speaking tournaments, prose and poetry recitation competitions, dramatic duets and English language debates with the objective to master new skills, crucial to their further development.
Besides bringing young people's knowledge to light, the competitions have another important aim - to show them that their ideas will always be shared and heard, their creativity - expressed, and themselves - supported in any endeavors both by their own acquaintances and by unknown peers and teachers.
For this year's graduates, this will also be the last chance to participate in the tournament, even though it will be held online. In order to make it successful, however, the organizers turn to you for support - get involved as a judge and help the competition with around 200 participants run smoothly.
What activities will I be involved in?
You will have the opportunity to observe how high school students compete in different language disciplines in English, to evaluate their performances and to give feedback - what they have done well, what to improve in the future, and more precisely - how.
Participants compete in one of five categories (original oratory; prose or poetry interpretation; a dramatic duo interpretation; debate) and take part in 2 or 3 preliminary rounds.
In those rounds, they get together with another 5 or 6 participants in a virtual room. Depending on how well they perform, a selected few proceed to the semifinals and then finals. Usually one judge participates in 3 or 4 rounds during the whole competition.
Within each round, the judge observes 5 or 6 performances, ranks them and provides written feedback.
What skills do I need?
You must have at least a C1 level of English and a diploma or certificate proving it. Previous experience in debating competitions is not required.
Is there training provided?
Yes and it is mandatory. It will be held on April 21 at 19:30 in Zoom and it will last for an hour and a half.
If you are unable to attend, the organizers will send you a pre-recorded judge training session.
When is the tournament taking place?
You must be online all day Saturday (April 24) and until late afternoon on Sunday (April 25). The competitions will be held online in Discord.
Who is organising it?
BEST Foundation
Why participate?
If you are a fan of creative performances like public speaking, recitation of poetry and debates, you will not only be a spectator and evaluator, but you will also receive special training and gain valuable knowledge and skills.
Age requirements?
You must have completed your secondary education.
How to participate?
Fill out this form and click the "I will participate" button for more details.
// the image is provided by the organizer
Кандидатствай до 18 April 2021
The mission is from 24 April 2021 until 25 April 2021
Registration closed
Stories
No stories published.
Once a mission you participate in ends, you can tell us how it went in a couple of sentences ("it was great" won't do).
It's simple: after the end we send you instructions - follow them. This way you earn points and rise in rank , others get inspired and we're all happy.