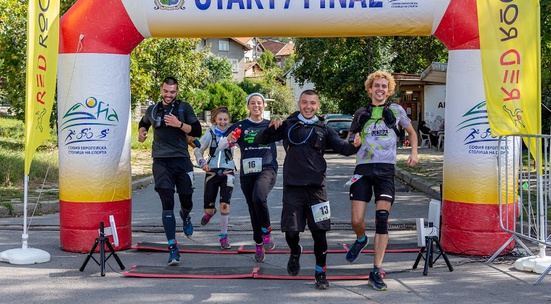 Be a Volunteer at the mountain competition 'Following Aleko's steps with a friend' 2021
What?
'Following Aleko's steps with a friend' is the only team competition of its kind with a social element, inspired by a major historical event - the first climbing of Cherni cape in 1889 from Aleko Konstantinov and Nikola Tantilov.
Every year 10% of the collected entry fees are donated to a good cause and in 2021 that is the Mountain Rescue Service - Kyustendil.
Each team needs at least two members and the time for each team is determined by the last one to cross the finish line. The route follows the picturesque ascending of Cherni cape from village Zheleznitsa with final destination village Vladaya. The distances are a short one (11 km) and a long one (27 km).
Despite the competition element, this event has a social focus and hopes to get locals from Sofia and nearby areas involved in something adventurous that would help them feel the team spirit.
What will be my role?
At this year's competition (fourth of this kind), the organizers from TD 'Boeritsa' expect around 1000 participants from all age groups with different skills and training to follow Aleko's steps. They will need new some fresh rookies with a smile on their faces to do the following: - Help with installations of things like the stage, tents, tables, and so forth; - Control and guide people on the track; - Maintain the supporting stations; - Encourage and motivate the participants; - Mark or clean parts of the route; - Help with the assembly of starting packages - a few days ahead of the competition; - Help control the car traffic where its crossing the competition's route; - Help with handing the starting packages, welcoming, and awarding the participants of the competition; - Help clean the waste after the competition and move the equipment.
When?
On 2nd October, Saturday. Safe the entire day. Where? Vitosha mountain, on the competition's route. Possible positions: village Zheleznitsa, village Vladaya, Cherni cape, and cabin Pancho Tomov.
Organiser?
Tourist Association 'Boeritsa'.
Why should I participate?
You will be a part of a young, friendly, and motivated team, and you will learn how similar mountain competitions are organised. You will spend a day full of interesting challenges. You will run away from the city for a bit and enjoy the fresh air.
Needed skills?
Good general physical fitness and good mental condition.
Needed equipment?
Mandatory:
Outfit and shoes that are suitable for the mountain during the autumn.
Winter hat, light gloves, and a raincoat.
A phone preferably with a GPS app.
Personal protective equipment (PPE) - mask, glasses, and gloves against COVID-19. (Masks and gloves will be given out onsite).
Recommended:
Headlight headband and a knife.
Radio station.
First aid kit and an emergency blanket.
Bonus: Camping chair (some stations might not have seating areas).
Food?
There will be sandwiches, fruits, and water for all volunteers, but it is best to bring extra supplies.
Transport?
The team will organize transport from Sofia with cars and buses for the event.
Health risks and safety measures?
When it comes to COVID-19, all volunteers will be given out masks and gloves. All participants will be instructed about the best way to go through the stations, so that there is no close contact with the volunteers.
It is best to be prepared for sudden weather changes. Some stations will be colder than others.
What if the weather is bad?
If there is rain and thunderstorms or snowing, the event will be postponed for the following day, 3rd October, Sunday.
Age restrictions?
If you are under 18, you must show a declaration for an informed agreement signed by a parent/guardian. You can find it here.
Will I get a certificate for volunteering?
Yes.
How to get involved?
Click on the green 'I will do it!' button and follow the instructions.
// the image is provided by the organizer
Apply until 28 September 2021
The mission will take place on 2 October 2021
Registration closed
Stories
No stories published.
Once a mission you participate in ends, you can tell us how it went in a couple of sentences ("it was great" won't do).
It's simple: after the end we send you instructions - follow them. This way you earn points and rise in rank , others get inspired and we're all happy.