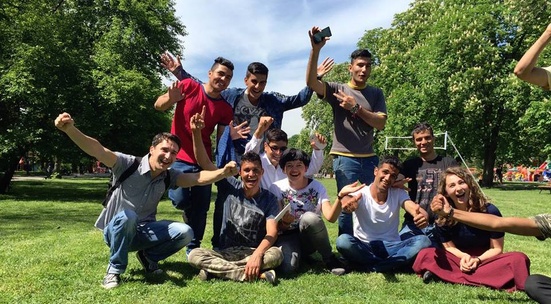 Lead activities for refugee children and adults in Sofia
What?
For more than five years, The Refugee Project volunteers have helped children, adolescents and adults to adapt more easily in Bulgarian society by organising a range of activities at the refugee centres in Sofia.
The activities have become really popular with the people living in the reception centres, as they make everyday life more meaningful and colourful, and present a chance to acquire new skills and knowledge.
At the current phase of the project new volunteers are needed to:
organise and lead activities for adults and children - Bulgarian and English language classes, sports, art, music, math and science, cookery;
assist with the organisation of daily trips and other related events.
When?
For the period from 17 October 2016 to 28 February 2017.
Activities are held on weekdays, in morning and afternoon sessions - 10:30-12:30 and 14:00-16:00. You must be able to participate at least once a week.
Where?
In the registration and reception centres of the State Agency for Refugees in Sofia:
Ovcha Kupel - 21A Montevideo St, near New Bulgarian University
Voenna Rampa - 11 Lokomotiv St, former Professional School of Interior Architecture and Woodworking
Vrazhdebna - 270 Botevgradsko Shosse Blvd.
Organiser?
The Refugee Project is a joint initiative between CVS Bulgaria and Caritas Sofia.
Why?
In yet another year of "zero" integration policies in Bulgaria, volunteers' support continues to play key role in the adaptation of adult and children refugees.
Required skills?
You must be responsible and committed, ready to work independently (under the mentorship of project coordinators), and interested in different cultures.
Experience in working with children is an advantage, as well as education in social care and/or pedagogy. Knowledge of Arabic, Kurdish and/or Farsi would be useful. Knowledge of other languages ​​is a plus.
Training?
Yes. Initial training for all volunteers will be held on the weekend of 1-2 October.
Age requirements?
You must be over 18 years old.
Necessary equipment?
Materials needed for operation are provided by the organisers.
How do I take part?
Press the green button "I will do it" and complete the online application form.
// photo courtesy of the organiser
Apply by 3 October 2016
The mission is from 17 October 2016 until 28 February 2017
Registration closed
Stories
Once a mission you participate in ends, you can tell us how it went in a couple of sentences ("it was great" won't do).
It's simple: after the end we send you instructions - follow them. This way you earn points and rise in rank , others get inspired and we're all happy.