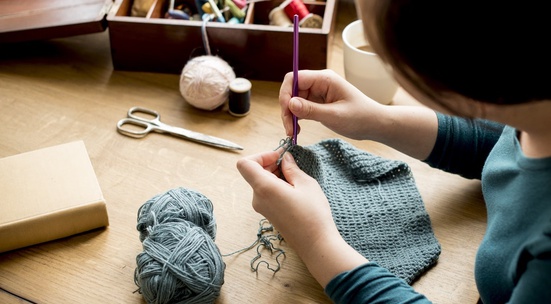 Volunteer at the CARITArt social workshops for refugee women
What?
The CARITArt social workshops are part of the large Caritas Sofia family. They create opportunities for people from different groups to acquire new skills, to volunteer, to successfully integrate in the Bulgarian society and enjoy their work.
Every Tuesday and Friday, the art studio in the center of Sofia welcomes women refugees and asylum seekers from all over the world who create art together, have fun, share techniques and their stories, thus expanding their social networking and social inclusion opportunities.
How can I help?
If you belong to the large group of women who are non-EU citizens and have a permanent, long-term or extended residence permit in Bulgaria, the team will be happy to meet you in the workshop!
Your role as a volunteer will be to support refugee women in:
handmade production of souvenirs, jewelry, decorations, cards and more;
charity bazaars;
sharing different cultural characteristics, social norms and customs;
communication in Bulgarian language and improvement of language skills;
engaging in sessions to learn about local culture, history and traditions;
various volunteering initiatives of Caritas Sofia.
All handmade products created during the workshops are offered at charity bazaars. The funds are allocated to symbolically pay for the labor of refugee women and to partially cover the cost of materials.
When?
The workshop is held twice a week:
Tuesday - 13:00 - 15:00
Friday - 13:00 - 15:00
You can come in accordance with your free time on a schedule agreed with the team in advance. It is important to have a long-term commitment to get used to the activities and build relationships with the group.
Where?
Sofia, Center for Integration of Refugees and Migrants "St. Anna", 1 Struma Street (near the Serdika metro station / Central Market Hall).
Organizer?
"Caritas Sofia".
Why take part?
Become part of the cause for inclusion and empowerment of refuge and asylum seeking women.
Learn new techniques and share your skills.
Get to know new people and cultures.
Learn, participate and contribute by spreading various volunteering initiatives.
Skills needed?
Desire to create, acquire new skills and become active part of the local community.
Age requirements?
18+
Other requirements?
Due to the specific nature of the activities, objectives and scope of the project, the workshop is open only to women.
In order for refugee women to feel part of the larger community of migrant women, Caritas Sofia are looking for volunteers from outside Europe with a residence permit in Bulgaria (except for women who came to Bulgaria with a student or work visa, or those who have received Bulgarian citizenship).
Will I get a certificate for volunteering?
Yes.
How to participate?
Click on the green "I will do it" button and fill in the application form.
// photo from here
Registration closed
Stories
Once a mission you participate in ends, you can tell us how it went in a couple of sentences ("it was great" won't do).
It's simple: after the end we send you instructions - follow them. This way you earn points and rise in rank , others get inspired and we're all happy.