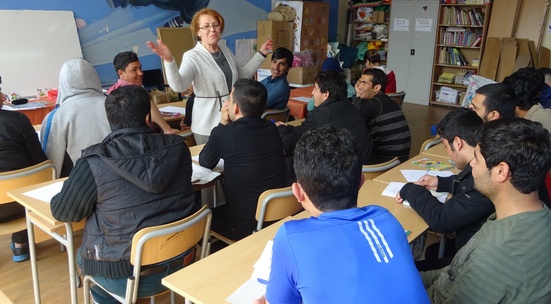 Organise lessons for foreign adults or children living in Busmantsi
What?
Caritas Sofia is starting a new initiative in the Special Home for Temporary Accommodation of Foreigners in Busmantsi. The people there are from different countries and are of all ages. They are not allowed to leave the centre. Some are there for days, others - for months.
Most of the adults and young people are eager to learn English and to get to know Bulgarian culture so that they are better oriented when they leave Busmantsi. For the children, it's important to have creative activities and lessons to make their days a little more pleasant and colorful.
The team is looking for motivated and creative volunteers who are willing to organize weekly sessions in this multicultural and dynamic environment from 1 June until 1 October.
When?
Each volunteer must be able to include at least once a week, on weekdays - from 10:30 to 12:00 (Monday-Friday) or 14:30 to 17:00 (except Tuesday and Thursday).
The schedule of activities will be fixed once teams are formed and volunteers provide information about their free time.
Organiser?
Caritas Sofia.
Where?
Busmantsi village, 65A Gen. Gurko St.
Transportation?
Busmantsi can be reached by car or marshrutka minibus number 35 (route Lyulin to Busmantsi, via Stamboliyski Blvd and Tsarigradsko Shosse, for detailed route see here, BG version only.)
Needed skills?
You must be at least 18 years old and must speak good English.
All volunteers will receive compulsory training.
How do I take part?
Press the green button "I will do it" and see how to contact the team.
// image courtesy of the organizer
Sign up by 14 May 2016
The mission is from 1 June 2016 until 1 October 2016
Registration closed
Stories
Once a mission you participate in ends, you can tell us how it went in a couple of sentences ("it was great" won't do).
It's simple: after the end we send you instructions - follow them. This way you earn points and rise in rank , others get inspired and we're all happy.