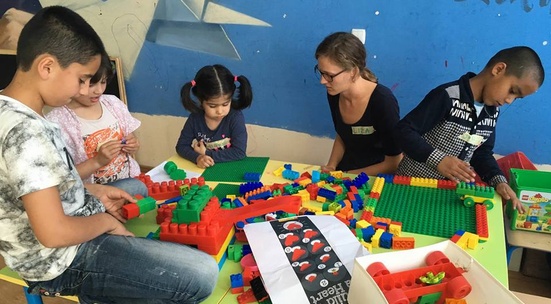 Join the Refugee Project in Sofia
What?
CVS - Bulgaria and Caritas Sofia are looking for new volunteers to work with kids, teenagers and adults as part of the Refugee Project in the reception centres in Ovcha Kupel, Voenna Rampa and Vrazhdebna at the State Agency for Refugees.
As a volunteer in the project you will have an active role in the adaptation of asylum seekers to the Bulgarian environment as a whole and in particular to the educational system in the country. Your tasks will include:
Leading activities in: English language, Mathematics, Art, Sports, etc.
Engaging and maintaining the interest of children, young people and adults who attend the classes.
Planning and organising training sessions/activities as part of a small team.
Participation in organising and conducting extra-curricular activities: excursions, participation in events and tournaments, visits to museums, theatres, natural and historical landmarks, etc.
Organising and managing fundraising and awareness-raising events.
You will be mentored and assisted in your work by project coordinators and experienced volunteers who continue in the project.
When?
You must commit to the project for the period 12 March - 30 June. With interest and satisfaction on both sides, the duration of work may be extended.
Each volunteer leads activities at least once per week for 2 hours - morning or aftenoon, weekdays only.
Volunteer training is scheduled for 11 and 24 March.
Where?
Ovcha Kupel: Integration Center at SAR, 21A, Montevideo Street
Voenna Rampa: 11, Lokomotiv Street
Vrazhdebna: 270, Botevgradsko shosse Blvd.
Organiser?
CVS - Bulgaria and Caritas Sofia.
What's in it for me?
Intercultural communication and acquaintance with different cultures.
Experience in working with children, young people and adults seeking international protection.
Experience in planning and conducting educational, creative and sports activities.
Acquiring skills in fundraising and organising awareness events.
Personal satisfaction.
Skills needed?
Willingness and skills to work with children, young people and adults in a multicultural environment.
Adherence to the ethical principles for working with vulnerable groups.
Responsibility and ability to work independently, after initial training and mentoring from the project coordinators.
Interest in different cultures.
Ability to carry out the tasks within the specified deadlines.
Ability to work with other volunteers to plan and implement activities.
Experience in working with children is an asset, as well as education in the field of social work and/or pedagogy.
Knowledge of Arabic and/or Farsi would be useful; other languages are a plus.
Age requirements?
You must be over 18-years-old.
Will I get a volunteer certificate?
You will receive a certificate from CVS - Bulgaria and Caritas Sofia in Bulgarian and English.
How do I take part?
Click the green "I will it" button and complete the online application form.
// снимката е оттук
Apply by 28 February 2018
The mission is from 12 March 2018 until 30 June 2018
Registration closed
Stories
No stories published.
Once a mission you participate in ends, you can tell us how it went in a couple of sentences ("it was great" won't do).
It's simple: after the end we send you instructions - follow them. This way you earn points and rise in rank , others get inspired and we're all happy.