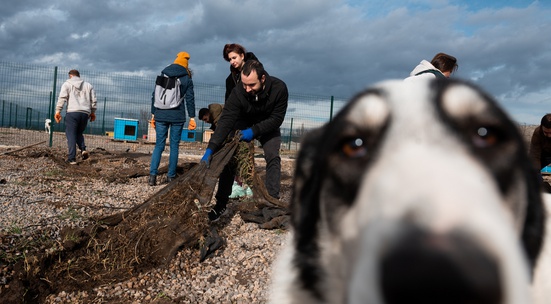 Help build the largest open shelter for dogs on the Balkans
What?
"We're building a home, not a prison," is what Every Dog Matters wrote to us to better explain what an open shelter means, and it is even the largest one on our peninsula.
In short , a total of 25,000 sq. m. in the industrial zone near Kostinbrod is now being turned into a temporary home for dogs rescued from the streets until they find a permanent one under someone's roof.
The smallest yards in it are 400 sq. m. in size, designed for a maximum of four dogs, and the largest - about 2,000 sq. m., which will accommodate no more than 15 residents. Without going into cages.
The enclosed spaces will in turn be converted into wide and warm rooms according to the needs of the quadrupeds, and for the moment the most important task of the team is to renovate the one that will accommodate the new arrivals.
As you probably guessed, the work suits the size of the space. In short, it's a lot.
That's why the Foundation is now asking for your help so that the shelter can be fully operational as soon as possible. Step by step.
You can get involved according to your abilities in the following activities:
carrying fence panels;
loading and unloading;
painting;
sanding;
preparation for plastering walls;
preparation for construction activity in interior spaces - cleaning and disposal of construction waste.
*If you are competent and willing to get involved with some building activities that require more special skills, you can email the organisers and discuss how to make it happen.
Or, *if you don't have the physical ability for the above but want to hit a shoulder, you can join in the dog walking mission, which again will make things easier for the team.
When should I get involved in repairs?
The team will be waiting for you every Saturday from 10am to 4pm.
If you would like to join in on a weekday, you can do so in the same range by prior arrangement with the organisers.
Where?
The shelter is located in the industrial area of Kostinbrod (second exit of the first roundabout in Kostinbrod from Voluyak).
There is a train stop nearby - "Pochivka" station, but there is no convenient public transport in general, so you will have to come with your own car.
Organiser?
Every Dog Matters EU Foundation.
Equipment needed:
Comfortable and warm work clothes, plus shoes that you can safely get dirty (with the idea that they might not get washed). Wear work gloves too.
The organisation will provide tools so you can leave them at home.
Bad weather plan:
As long as the forecast doesn't point to any dangerous conditions, you're always welcome.
Should I bring something for the dogs?
If you want, you can always bring treats, blankets, bedding, leashes, houses, pallets and toys for your four-legged friends.
Health risks:
Like any activity involving repairs and construction, this one also has risks of work-related accidents. The organization promises not to load you with complicated and dangerous tasks, but still keep one thing in mind.
Given the epidemic situation, work will be carried out in strict compliance with current anti-epidemic measures.
Are there age restrictions for volunteers:
18+.
How to participate?
Click the green "I will participate" button to sign up for the mission.
// photo courtesy of Every Dog Matters Foundation.
Registration closed
Stories
No stories published.
Once a mission you participate in ends, you can tell us how it went in a couple of sentences ("it was great" won't do).
It's simple: after the end we send you instructions - follow them. This way you earn points and rise in rank , others get inspired and we're all happy.