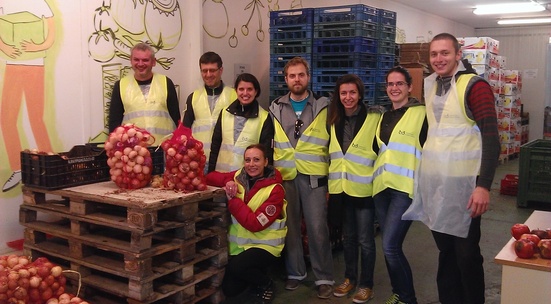 Sort out donated food for people in need in December
What?
Most people think we don't waste food in Bulgaria. In reality, hundreds of kilograms get discarded every day. Large amounts of food get pulled off the shelves because their appearance or packaging has lost its consumer appeal or because they are nearing their expiry dates. This food is still perfectly good to eat. At the same time many people are starving for reasons beyond their control.
To prevent at least some of the food from being wasted and to make sure it reaches the people in need, volunteers of the Bulgarian Food Bank join their efforts for a few hours every week to help collect and sort out donated fruit, vegetables and packaged foods.
You can become part of the team on Wednesdays and Fridays from 10:30 am to 2:30 pm. Pick your available date(s) from the December schedule and confirm your presence with the organizer in advance (the warehouse can accommodate a maximum of 12 volunteers at a time).
You will find all necessary contact info when you click the "I will do it" button.
Organizer?
The Bulgarian Food Bank.
Why?
With every hour you spend collecting and sorting out food, you help prevent food waste and make it possible to feed a larger number of hungry people - kids in institutions and on the street, families and elderly people below the poverty line, people with disabilities and other underprivileged groups.
Where?
At the Slatina-Bulgarplod Wholesale Market in Sofia (13 Prof. Tsvetan Lazarov Blvd, map).
Skills needed?
No specific skills required. All volunteers must be in good health though and should not have been in contact with anybody with a contagious disease in the past month (you sign a declaration on the premises, no medical documents required).
Equipment needed?
Wear comfortable clothes, suitable for working in a food warehouse – long trousers, T-shirt/blouse, flat shoes. Gloves and work vests will be provided by the organizer, as well as a general safety briefing.
Food?
Water, hot drinks and biscuits provided for all volunteers.
If the weather is bad?
Not a problem. All the work is done indoors.
How do I take part?
Click the "I will do it button" and see how to get in touch with the organizer.
// image courtesy of the organizer
Join in by 23 December 2015
The mission is from 2 December 2015 until 23 December 2015
Registration closed
Stories
Once a mission you participate in ends, you can tell us how it went in a couple of sentences ("it was great" won't do).
It's simple: after the end we send you instructions - follow them. This way you earn points and rise in rank , others get inspired and we're all happy.