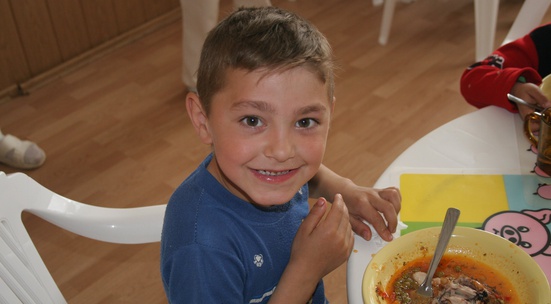 Donate food and hygiene materials to children in foster care
What?
For the fifth year in a row, "People for People Foundation" has started a campaign to collect food and hygiene items for children with and without disabilities who live in social institutions in Sofia, Karlovo, Samokov, Dren, Gabrovo and Mezdra.
The foundation supports children throughout the year with various initiatives - summer camp at the sea and winter camp in the mountains, providing clothes, shoes, etc. And now they turn to you for help - send packaged food for the children's daily menu, as well as hygiene materials, so that the directors of the institutions can use the savings for needs that are otherwise difficult to cover with their limited budgets.
How can I help?
Send their way any type of food that has a long shelf life and does not require refrigeration. For example:
beans, lentils, rice;
pasta;
flour, oil, vinegar, sugar, salt, spices;
sterilized vegetables, preserves and compotes;
lyutenitsa, pate, honey, jam, chocolate spread;
biscuits, wafers, crackers, sweets;
cereals, nuts, etc.
Hygiene products.
washing powder or capsules;
cleaning products;
toilet paper;
kitchen paper;
wet and dry towels;
soap, shampoo, shower gel;
toothpaste and toothbrushes.
The food products need to be accompanied by proof of origin (e.g. receipt).
When?
The campaign is running until 20 December.
Organiser?
People for People Foundation.
Which foster homes will be supported?
Donations will be distributed according to the needs of the children in:
Transitional housing "Zahari Stoyanov" and "Neofit Rilski", Gorna Banya
Family-type accommodation center for children:
"Patriarch Evtimiy" and "Exarch Yosef", Ovcha Kupel, Sofia
"Vasil Levski" and "Hristo Botev", Sofia Suhata Reka, Sofia
"G.S. Rakovski", Benkovski, Sofia
"Paisii Hilendarski" and "Sofronii Vrachanski", Lyulin 8, Sofia
Kv. Borovo and Kv. Trendafil, Gabrovo
Mezdra
Karlovo
Dren
Samokov
How can my donation reach the children?
The products are collected at the office of "People for People Foundation" in Sofia. You can send the package by mail or courier at your expense, or you can hand it over in person in the "Levski G" neighborhood in Sofia.
Will I receive a donation certificate?
Yes, upon request.
Which address should I send it to?
Click the green "I will do it!" button to see the contacts.
// the photo is from here
Apply until 20 December 2021
The mission is from 8 October 2021 until 20 December 2021
Registration closed
Stories
Once a mission you participate in ends, you can tell us how it went in a couple of sentences ("it was great" won't do).
It's simple: after the end we send you instructions - follow them. This way you earn points and rise in rank , others get inspired and we're all happy.