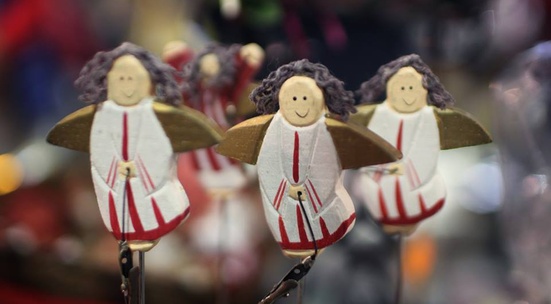 Volunteer for the Annual Charity Bazaar of the International Women's Club
What?
For over two decades now the ladies from the International Women's Club of Sofia (IWC) have organized a big and colorful Christmas Charity Bazaar which connects nations and organizations for a good cause.
On 3 December 2017 the bazaar will once again bring together participants from more than 60 nationalities who will proudly showcase their handmade crafts, music, souvenirs, folklore, national cuisine, clothing, literature, culture and tradition. All funds collected will support social projects across Bulgaria to meet the needs of the most marginalized groups in the country.
The 23rd IWC - Charity Bazaar is now looking for volunteers to join its international team and help with the organization at Inter Expo Center in Sofia. Here's how you can be useful:
30 November - 1 December, Thu - Fri, 14:00 - 17:00
arrange the halls - put together and move around stands, chairs, etc.;
2 December, Sat, 12:00 - 16:00
clean up and get the halls ready for the event;
3 December, Sun, 10:00 - 19:00
assist some of the participants by selling their goods;
hang and deliver coats at the cloakrooms;
assist Santa Claus and help at the fun corners;
help keep order in the entrance area;
help regulate car traffic in the parking zone;
collect trash from the halls during the event;
help clean up afterwards.
Organizer?
International Women's Club of Sofia.
Why should I take part?
Last year at the bazaar were represented 62 countries with a total of 79 stands. You will literally meet the whole world, in the name of good.
Where?
Sofia, Inter Expo Center, 147 Tsarigradsko Shosse Blvd.
Needed skills?
You are the right person for this mission, if you:
love the buzz of huge multinational crowds;
have a friendly and outgoing personality;
handle responsibly all agreed tasks.
Age requirements?
If you are below 18, you need a declaration of informed consent by your parents/guardians.
How to participate?
Click the green "I will do it! " button and see how to get in touch with the organizer.
// image courtesy of the organizer
SIgn up by 26 November 2017
The mission is from 30 November 2017 until 3 December 2017
Registration closed
Stories
Once a mission you participate in ends, you can tell us how it went in a couple of sentences ("it was great" won't do).
It's simple: after the end we send you instructions - follow them. This way you earn points and rise in rank , others get inspired and we're all happy.