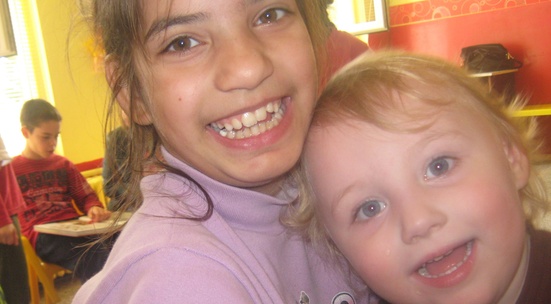 Donate clothes, shoes and toys to the kids in the Kaspichan orhpanage
What?
The orphanage called "Sunshine" ("Slantse") in the small town of Kaspichan is a temporary home for 15 smiling and inquisitive kids aged between 3 and 12 years old who are separated from their parents. They attend kindergarten and school, prepare their homework, participate in household chores, play sports, meet and play with neighbours and friends, as all children do.
Julie Moule, an English teacher who has lived in Bulgaria for six years with her husband and four children, met with some of the kids from the orphanage whilst volunteering at a special school in town. This is how she found out they have an urgent need for trainers and shoes, and also clothes, books and toys.
Together with her children, Julie has launched a campaign to support their little friends at "Sunshine". They are relying mostly on your help. Needed are:
Trainers and shoes
boys - all numbers from 30-­31 to 39-­40;
girls - numbers 33-­34, 34-­35 and 35-­36.
Clothes
for boys and girls;
from sizes 100 up to 163 cm;
for all seasons.
Toys and books
for boys and girls;
for ages between 3 -12 years;
of any kind.
All items must be clean and in very good condition.
Julie collects donations at her office in Novi Pazar and then drives them to the "Sunshine" home. You will find the exact address from the "I will do it" button.
Organizer?
Julie Moule.
Where?
You can send your support by post or courier to Julie's address in Novi Pazar.
Transportation?
Please make sure you cover the shipping costs.
How do I take part?
Click the green "I will do it" button and see the exact address.
// image courtesy of the organizer
Donate by 11 April 2016
The mission is from 11 March 2016 until 11 April 2016
Registration closed
Stories
No stories published.
Once a mission you participate in ends, you can tell us how it went in a couple of sentences ("it was great" won't do).
It's simple: after the end we send you instructions - follow them. This way you earn points and rise in rank , others get inspired and we're all happy.