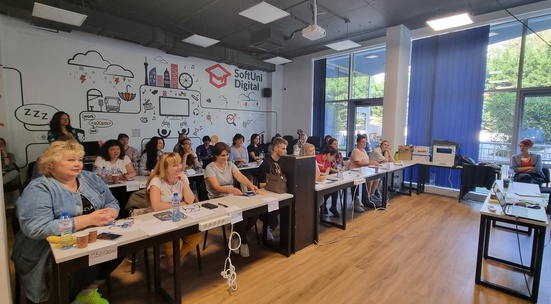 Lead Bulgarian, English and art classes in Sofia for women and children displaced by the war
What?
The "Open Doors" Situational Centre is one of the first places in Bulgaria to provide support for families seeking protection in Sofia - psychological, with options for temporary accommodation, administrative assistance, registration and other services to help those arriving.
Today, four months after the start of the crisis, the centre is beginning a transition to activities that aim to be of long term help, providing those fleeing the war with security, stability and conditions for a decent life in Bulgaria. To facilitate this process of adaptation for women and children determined to build new lives here, the organization needs your help.
Join the family of volunteers by:
leading Bulgarian and/or English language classes for women and children;
leading classes for children who will start school in Bulgaria, to adapt to our education system;
leading various art classes for children - painting, singing, acting, etc.
If you see yourself in any of the above roles, stay tuned for the details.
Where?
The classes/courses will be held at the "Open Doors" Situational Centre in Sofia, on ul. "Al. Malinov" № 78.
Note that after 1st August their location will change, as the organization is looking for a new building for its activities.
When?
The days, frequency and times of the classes will depend entirely on your commitments and availability. Once you have clicked the green "I will participate" button, you can mark in the survey when it will be convenient for you to join.
Organiser?
"Open Doors" Situational Center.
Why?
By taking part in this mission you will support the successful integration into Bulgarian society of people displaced from their homes by war.
Skills needed?
Your language skills in Bulgarian should be high, you should have teaching experience and willingness to share your knowledge.
It is a good idea to be able to speak Russian in order to communicate easily with the groups. Previous teaching experience with foreign citizens is an advantage.
Are there any age restrictions?
18+
How to participate?
Click the green "I will do it" button and follow the instructions.
// photo courtesy of the organizer
Кандидатствай до 31 July 2022
The mission is from 23 June 2022 until 31 July 2022
Registration closed
Stories
No stories published.
Once a mission you participate in ends, you can tell us how it went in a couple of sentences ("it was great" won't do).
It's simple: after the end we send you instructions - follow them. This way you earn points and rise in rank , others get inspired and we're all happy.