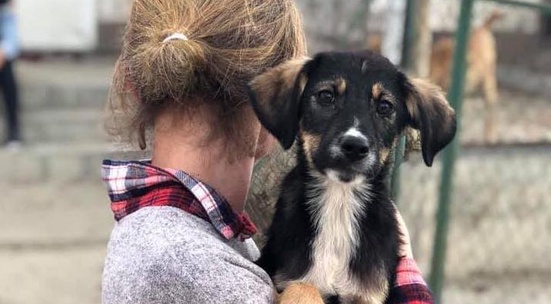 Volunteer at the puppy shelter in Slatina
What?
The municipal shelter in Slatina, Sofia, is the place for two special groups of dogs rescued off the street - all those little babies thrown out in a box and aging animals. A total of 100 homeless buddies looking for a better life.
The greatest happiness would be for each and every one of them to find a new home and loving family. And for that to happen, it is important for the dogs to socialize and get used to human company. Then they stand a much better chance of adoption.
Join the Slatina Puppy Gang group of volunteers who visit the shelter every week and bring joy and care to all. With you, the dogs will have their moments of freedom and play outside the cages, will learn to walk on a leash and get to know what it's like to give and receive tons of hugs.
Your can really help make a difference by:
walking and playing with the dogs;
bathing and grooming;
cleaning the cages;
socializing the animals.
When?
Volunteers are welcome every Thursday, Saturday and Sunday, from 9 am to 1 pm.
Book your visit in advance, as the shelter can accept a limited number of volunteers for the day. Do not go on your own - first get in touch with the volunteers' coordinator.
Where?
Sofia, 164 Geo Milev St, Slatina.
Organizer?
Stéphanie Gillet - long-term volunteer at the municipal shelters run by Ecoravnovesie.
Skills needed?
Love animals. Be patient and hardworking. Cooperate with the rest of the team.
Necessary equipment?
Clothes that can get real dirty.
Shall I bring something for the dogs?
More than welcome, if you wish: dog treats; wet food for puppies and for senior dogs; all kinds of toys, including handmade.
Transport?
You can reach the shelter by bus 9 or 404.
If weather is bad?
If it rains, the visit for the day is cancelled.
Health risks?
You will have safety briefing on your first visit. All volunteers must follow strictly the rules at the shelter to make sure both dogs and humans are protected.
Age restrictions?
18+
How do I take part?
Click on the green "I will do it" button and see how to sign up for your first visit.
// photo courtesy of Ecoravnovesie
Registration closed
Stories
Once a mission you participate in ends, you can tell us how it went in a couple of sentences ("it was great" won't do).
It's simple: after the end we send you instructions - follow them. This way you earn points and rise in rank , others get inspired and we're all happy.