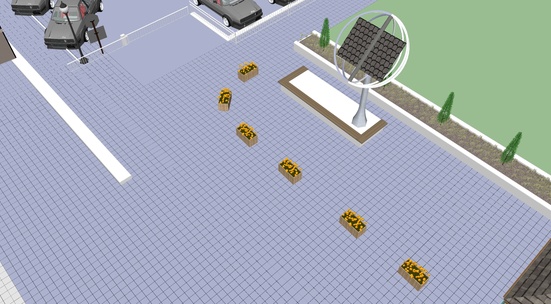 Help Varna get a public solar charger
What?
"Solar Charger" is a 2-year-old project. It is a public charging station for mobile devices, to be mounted at the festival complex in the center of Varna. It will spread wireless internet and will have 6 sockets with cable for charging mobile phones (for free). Will be mounted on an abandoned foundation, in a neglected area.
The steel construction for the housing of the charger is ready. The stainless steel lining is currently in production together with all the electronics. The project is the winner of the environmental contest by "For the Earth" Association and is partly sponsored by the ZMDI company.
Such a project is quite difficult to implement by one or two people, so the organizer - Stefan Stefanov - is looking for heroes in 3 areas:
a hero who can help with the administrative work - submission and monitoring of all necessary documents in the Varna Municipality. Some answering to questions related to the project and its implementation may be needed, as well as attending municipal meetings and such. Should be based in Varna.

a hero with good English (may be English speaking) and PR skills to help with a Kickstarter funding. Can be based everywhere.

a hero with good technical knowledge to help design the completion of the metal housing. Must be based in Varna, in order to monitor the implementation of the designed details.
Why?
"Solar charger" is a project of cultural and educational importance playing with the alternative uses of the solar energy. Located near the Sea garden, the project aims at becoming a social hub for young and active people.
Where and when?
Varna. The engagement is long-term.
How to participate?
Press the green "I will do it" button and follow the instructions.
// photo provided by the Organizer
Registration closed
Stories
No stories published.
Once a mission you participate in ends, you can tell us how it went in a couple of sentences ("it was great" won't do).
It's simple: after the end we send you instructions - follow them. This way you earn points and rise in rank , others get inspired and we're all happy.