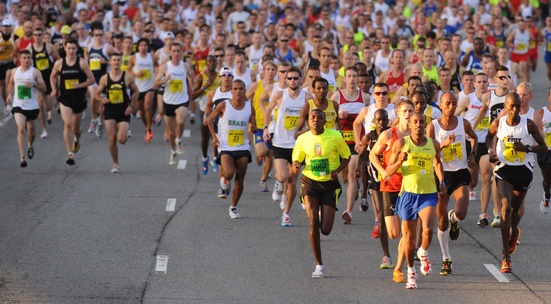 Volunteer for Varna Marathon 2016
What?
At 9:30 on the morning of May 15th the first ever Varna Marathon will begin. Runners from the biggest athletic clubs in the country and abroad are expected to compete. Athletes from the nations with the strongest long-distance runners – Kenya, Ethiopia, and Morocco, as well as professionals from ten other countries, have already announced their participation in the race.
In addition to the classic distance of 42.195 km, the competition will also offer three disciplines intended for amateur runners – a 2 km city cross, and 8.4 km and 16.8 km runs.
It goes without saying, organization along the track should be spotless, and to achieve that, the team will need reinforcements as early as 7:00 am on Sunday, May 15th. Choose your position:
securing the track – rolling out tape, directing pedestrians to the crossing points, putting the tape away;
refreshment stations - handing out food and drinks to the runners, clean-up;
event headquarters - various tasks;
registration of participants and handing out flyers.
Volunteer orientation meetings are scheduled for May 12th and 13th at 6:30 pm in hall 17 of the Youth Center (Mladezhki Dom).
Organizer?
Ustrem Cycling Club is part of the organizing team and is responsible for volunteers and securing the track.
Why?
The marathon has already announced its intention to be a world-class event with some of the best runners. It could only succeed if the organizing team does a brilliant job. That's where you step in.
Where?
Varna. The track will run through the city's central pedestrian zone and the Sea Garden.
Necessary skills?
You are perfect for the job if you are outgoing, polite, and a team worker. And also:
wish to have an exciting day and meet lots of new people;
show your enthusiasm and your smile;
commit to your tasks with all due responsibility.
Equipment needed?
Wear comfortable clothes and shoes – you'll probably be on your feet most of the time. If you're under 16, you need to be accompanied by an adult.
Provided by the organizers are:
a branded t-shirt and a signalling whistle;
a certificate;
a valuable experience;
a reason to feel proud.
How about food?
Cold snack packets provided.
If weather is bad?
You can count on a free raincoat.
How do I take part?
Click the green "I will do it" button and see how to get in touch with the organizers.
// photo by U.S. Army
Sign up by 11 May 2016
The mission will take place on 15 May 2016
Registration closed
Stories
No stories published.
Once a mission you participate in ends, you can tell us how it went in a couple of sentences ("it was great" won't do).
It's simple: after the end we send you instructions - follow them. This way you earn points and rise in rank , others get inspired and we're all happy.