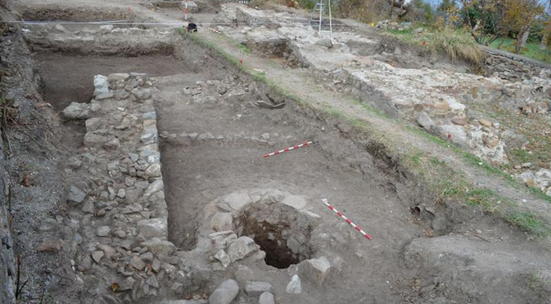 Participate in archeological works in Ahtopol
What?
Vortex Foundation (Volunteering with Respect for the Traditions and Excellence) is based in Malko Tarnovo introduces in Bulgaria the principle of voluntary work in the field of archeology and the preservation of cultural heritage. The foundation works in the field of alternative education and promotes spiritual development and alternative social models. It was created by Vera, Maria (Bulgaria) and Bob (the Netherlands), all of whom have long experience on the site of the Bosnian pyramids and in working with children of Strandja mountain.
Vortex Foundation invites you to join as a volunteer in archaeological excavations near Ahtopol. Leader of the expedition will be Dr. Andrei Aladzhov, Chief assistant professor at the National Institute of Archaeology Academy of Sciences,
After five seasons of volunteering at the Bosnian pyramids and nearly a two-year study of the magical Bulgarian Strandja Mountain Nature Park, also known as the "Lung of Europe", Dr. Andrei Aladjov, Chief assistant professor in the National Archaeological Institute of the Bulgarian Academy of Science, invites you to join the volunteer work at an archaeological site on the Black Sea, Bulgaria.
Combine your love for archaeology with the incredible feeling of spending September on the southern Black Sea coast: places still untouched or at least not spoiled by modern life, beautiful beaches and cliffs, close to the border with Turkey.
Here you will find more info about the project and the work.
When?
September 20 to October 31, divided into three shifts, (shorter shifts optional).
First shift: September 20 - October 3 Second shift: October 4 - October 17 Third shift: October 18 - October 31
Who?
Vortex Foundation.
Where?
Ahtopol, Bulgaria, at the Black Sea - on the border of Strandja Mountain, between Bulgaria and Turkey. Accommodation is in a beautiful building over the cliff with its own garden, known as the Greek School (built by and for the Greek population still living on those lands at the beginning of the XX century) in double rooms (according to the number of participants).
Skills needed?
Affinity for archaeology, but not only: ancient cultures, beautiful landscapes, teamwork and the opportunity to explore these uncharted territories, its unique flora and fauna, geological and archaeological finds, small villages with unique customs from immemorial time (such as dancing on fire and others). Experience in previous expeditions is an advantage but not crucial.
If you are a student and are interested in whether your participation can be counted as internship credits, please inform the organizers in time so they can make the necessary arrangements through Sofia University or through Archaetypes International Research NGO.
There will be different types of activities in situ: sketching the sites, photographing, cleaning artefacts, helping in the kitchen and in the organization, working with children from the region, which we intend to bring visiting as educational module. There are workers engaged for the heaviest excavations.
Accomodation?
There's a 13 euro/day fee that includes accomodation and 3 meals a day + insurance.
How to participate?
Click on the green "I will do it" button to see the organizer's contact details.
// photo by the organizer
Кандидатствай до 15 September 2015
The mission is from 20 September 2015 until 31 October 2015
Registration closed
Stories
Once a mission you participate in ends, you can tell us how it went in a couple of sentences ("it was great" won't do).
It's simple: after the end we send you instructions - follow them. This way you earn points and rise in rank , others get inspired and we're all happy.