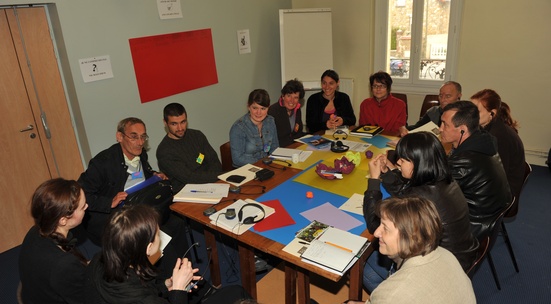 Translate from Bulgarian to English, Hungarian or Romanian at a workshop on social activities
What?
A workshop organized by the ATD Fourth Movement will bring together in the village of Lozen (15 km from Sofia) about 35 activists coming from Bulgaria, Germany, Hungary, Macedonia, Poland, Romania, and the United Kingdom. All of them are acting to reach communities living in extreme poverty that our societies tend to forget, those that are invisible and not taken into account at all. The workshop aims to promote sharing of experiences in order to reinforce our different strengths.
The participants are from different walks of life and they don't have a common language. During the workshop English will be the main language, but not all participants are able to speak and understand it. That's why the organizing team is looking for interpreters from Bulgarian to English, Hungarian and Romanian and vice-versa.
For each language are needed 2 interpreters at a time in order to take turns every 30 minutes.
When?
The workshop will last three days from 26 May (Thu) to 28 May (Sat). You can volunteer for the whole period, for one day or for half a day.
Organizer?
ATD (All Together in Dignity) Fourth World is a movement of solidarity among and in collaboration with the most excluded families around the world. ATD Fourth World gathers people from all backgrounds in order to think, act, and live together differently, and is active in 34 countries. Its actions against extreme poverty are based on access to knowledge for everyone.
ATD Fourth World presence in Bulgaria began six months ago. Their aim is not to start any new projects, but to learn more from people or groups who are already working against extreme poverty through initiatives in East and South-East Europe.
Why?
By participating as a volunteer interpreter in this mission you will:
Make possible dialogue and discussion on important social issues and the effective ways to resolve them.
Get a chance to improve your interpretation skills by gaining useful, hands-on experience.
Learn more about the situation of people in extreme poverty in East and South-East Europe.
Meet with social activists from all over Europe.
Where?
In the village of Lozen (15 km from Sofia), at the Bulgarian Red Cross National Center.
Required skills?
You need to speak fluent Bulgarian and one of the other languages: English, Romanian or Hungarian.
It will be great if you have some experience in simultaneous interpretation.
Transportation and accommodation?
The organizers provide transportation between Sofia (or other city) and Lozen.
If you would like to help for the three days, they can also provide accommodation.
Food?
Lunch will be provided, coffee, tea and water.
How do I take part?
Click the green "I will do it" button and see how to get in touch with the team.
// image courtesy of the organizer
Apply by 2 May 2016
The mission is from 26 May 2016 until 28 May 2016
Registration closed
Stories
No stories published.
Once a mission you participate in ends, you can tell us how it went in a couple of sentences ("it was great" won't do).
It's simple: after the end we send you instructions - follow them. This way you earn points and rise in rank , others get inspired and we're all happy.