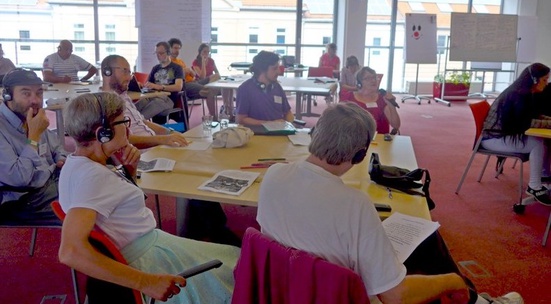 Interpret from French or Romanian at a workshop on inclusive education
What?
In September, a workshop organized by ATD Fourth World will bring together in Plovdiv about 40 activists from Bulgaria, Hungary, Romania, Serbia, France, and Belgium. The three-day event is called "Inclusive Education for EVERYONE: Sharing experiences on reaching out to the most deprived".
The participants come from different walks of life, some of them work in teams, some act individually, others contribute to education in their community or neighborhood. What all of them share is a common vision for reaching out to people living in extreme poverty and searching for solutions to include them in society.
The workshop aims to allow everyone to exchange ideas and good practices, and to feel support for their efforts.
What will I do?
Volunteers are needed to interpret from French and from Romanian during the workshops, discussions and presentations.
You may interpret into English or into Bulgarian.
Both simultaneous and consecutive interpretation will be needed.
When?
The workshop is from 5 to 7 September, Thursday to Saturday, from 9:00 am to 6:30 pm. You can volunteer for the whole period or just for one day.
Where?
Plovidv, SKLAD, 16 Ekzarh Yosif St.
Organizer?
ATD (All Together in Dignity) Fourth World is a movement of solidarity among and in collaboration with the most excluded families around the world. ATD Fourth World brings together women and men from all cultures and social classes and is active in 34 countries. Its actions against extreme poverty are based on access to knowledge for everyone.
Why take part?
To make possible dialogue on important educational and social issues, and the effective ways to resolve them.
To practice your interpretation skills in real working environment.
To learn more about inspiring educational initiatives and the situation of people living in extreme poverty in East and South-East Europe.
To meet up-close social activists from all over Europe.
Skills required?
Fluent French or Romanian, plus English or Bulgarian. It will be great if you have some experience with interpreting at events and using simultaneous interpretation equipment.
Food and accommodation?
Hotel accommodation will be provided in rooms for two, from 4 to 8 September. Breakfast, lunch and dinner included.
Transport?
The organizers can cover your travel expenses to Plovdiv.
Will I get a volunteer certificate?
Yep.
How do I take part?
Click the green "I will do it" button and see how to get in touch with the organizer.
// photo courtesy of the organizer
Join in by 21 July 2019
The mission is from 5 September 2019 until 7 September 2019
Registration closed
Stories
No stories published.
Once a mission you participate in ends, you can tell us how it went in a couple of sentences ("it was great" won't do).
It's simple: after the end we send you instructions - follow them. This way you earn points and rise in rank , others get inspired and we're all happy.