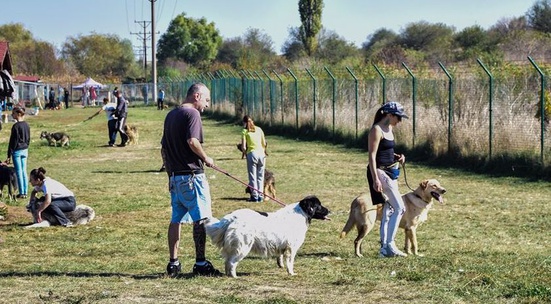 Walk a dog from the 1500 Dog Gang in the municpal shelter near Sofia
What?
The 1500 Dog Gang is a group of volunteers who want to change the quality of life of dogs in the municipal shelter near Sofia, as well as attitudes towards animals in the community.
Every Sunday you can join the gang and take dogs for a walk. Some dogs might have spent over a month locked in their cages and this is the best present you can give them. Petting them, running and playing with them will boost your energy and will help the dogs to socialise and to enjoy moments of freedom and attention, which gives them a better chance for adoption.
When?
Every Sunday between 10:00 and 14:00.
Where?
Sofia, Gorni Bogrov Municipal Shelter (run by Ecoravnovesie).
Drive past the Lukoil petrol station, past some storage buildings, tress and a diner (Skara-bira) and take the path on the right. Sat Nav: https://goo.gl/maps/hNefn2zgV9U2
There is a stop of bus №90 (Malashevtsi – Buhovo) nearby. Get off at "Han Bogrov" stop (next to Lukoil) and walk back on the road. It takes about 5-10 mins from the bus stop to the shelter.
To share rides with other volunteers, post in the events on the Facebook page of the 1500 Dog Gang.
Necessary equipment?
You must wear a face mask and gloves, and be sure to keep a distance of at least 2.5 meters from the others.
You might want to take a tick repellent spray (in the warm months) and clothes you won't be afraid to get dirty in, as well as a second pair of shoes (if wet and muddy – a pair of wellies), which you can put after your visit.
Wet and dry hankies or disinfectant - up to you.
Skills needed?
Love for animals, devotion and willingness to get a bit muddy and receive lots of licks and hugs.
If the weather is bad?
Dog walks take place every Sunday unless the conditions are too bad for humans and dogs (for example – it is pouring with rain).
If they are going to skip a Sunday, the organisers will post an announcement on their Facebook page.
Food?
You might wish to take some food and drink with you. There is nowhere to buy from in the vicinity.
Shall I bring something for the dogs?
Dog treats will be most welcome!
Health risks?
Before every walk there is a safety briefing for all volunteers.
Newcomers will be asked to sign a form of consent by which they declare that they are familiar with the rules for dog walking at the shelter. These rules must be strictly followed.
Age restrictions?
For safety reasons all children must be accompanied by a parent.
How do I take part?
Click on the green "I will do it" button and see how to sign up.
//photo courtesy of the organiser
Hero, by joining this mission, you agree that your e-mail and your name will be shared with the organizer of the mission, so that he can contact you if needed. Your data will NOT be shared with anyone else. See our privacy.
Join mission!
Stories
Once a mission you participate in ends, you can tell us how it went in a couple of sentences ("it was great" won't do).
It's simple: after the end we send you instructions - follow them. This way you earn points and rise in rank , others get inspired and we're all happy.