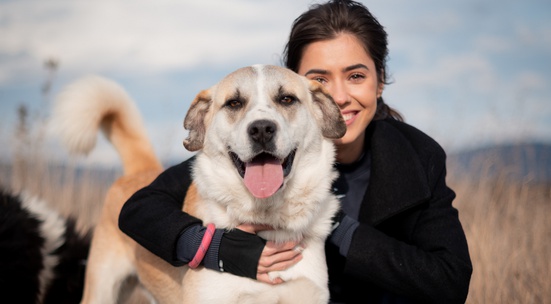 Walk the dogs from the new shelter near Kostinbrod
What?
The Australian, Terry Kyle, first came to Bulgaria in 2007 and was immediately shocked by the often cruel treatment of stray animals in the country.
Since then, life has often brought him back, until he finally decided to turn his ideas into action - to build Bulgaria's first open-air shelters. What does this mean? Wide spaces without barriers, food and medical care for the dogs who are looking for their permanent home, but in the meantime feel well enough in the temporary one.
That's why his Every Dog Matters Foundation team has now rolled up its sleeves and renovated a 25,000 square metre space near Sofia, which in 2021 should become the largest cage-free shelter on the Balkan Peninsula.
And because this work is big and serious, the organization is now asking you to help with the walks of its more than 50 residents, which the people of the shelter are unable to manage. In return, you'll get a serious amount of canine affection, and your body will thank you for the exercise in the fresh air.
When?
Every Sunday from 10:00 am to 4:00 pm.
You can also join in on weekdays in the same time range, after emailing the organisers in advance with details of which day you intend to come.
Where?
The shelter is located in the industrial area of Kostinbrod (second exit of the first roundabout in Kostinbrod from Voluyak).
There is a train stop nearby - "Pochivka" station, but there is no convenient public transport in general, so you will have to come with your own car.
The walks themselves will take place in a field near the shelter, which is quite suitable for this purpose.
Organiser?
Every Dog Matters EU Foundation.
Needed equipment:
Warm clothes and shoes that you will regret if they get muddy.
Plan for bad weather?
As long as the forecast doesn't point to dangerous conditions, you're always welcome. And with a chance to repeat ourselves - dress accordingly.
Should I bring something for the dogs?
If you want, you can always bring treats, blankets, bedding, leashes, houses, pallets and toys for your four-legged friends.
Health risks:
The dogs at the shelter are very friendly, but if anything bothers you, the shelter staff will be on site to assist.
Walks will be outdoors, but will still be conducted in strict compliance with current anti-epidemic measures.
Are there age restrictions for volunteers:
If you are under the age of 18, you should consider bringing a chaperone.
How do I participate?
Click the green "I'll participate" button to sign up for the mission.
// photo courtesy of Every Dog Matters Foundation
Hero, by joining this mission, you agree that your e-mail and your name will be shared with the organizer of the mission, so that he can contact you if needed. Your data will NOT be shared with anyone else. See our privacy.
Join mission!
Stories
Once a mission you participate in ends, you can tell us how it went in a couple of sentences ("it was great" won't do).
It's simple: after the end we send you instructions - follow them. This way you earn points and rise in rank , others get inspired and we're all happy.