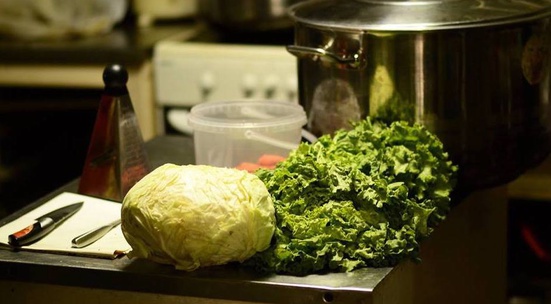 Join the solidarity kitchen for socially disadvantaged people in Sofia
What?
Food Not Bombs - Sofia is a voluntary initiative, driven by a group of self-organized activists to support people in need. For more than two years, every week, volunteers cook and share with dozens of hungry people warm vegetarian meals, clothes, shoes, and above all care and support.
To become part of this Solidarity Club, just roll up your sleeves and enter the kitchen, any Sunday or Wednesday. Help with cooking and get to know the people.
Then, you can get involved in community bread making, or vegetable growing with Urban Gardening - Sofia, you can let people in the Solidarity Club for a shower on weekdays, or share clothes and other necessities.
Where and when?
The solidarity kitchen operates every Sunday and every Wednesday from 10:00 am at 51 George Washington Street in Sofia (right behind the St. Cyril and Methodius Church, Zhenski Pazar).
Wednesday
10:00 - 13:00 - cooking
14:00 - 15:00 - share meals with everyone in the club
Sunday
10:00 - 13:00 - cooking
13:00 - 14:00 - community meeting to discuss questions and ideas how to better meet the needs
14:00 -15:00 - share meals with everyone in the club
Organizer?
Food Not Bombs - Sofia.
Why take part?
Food Not Bombs is a movement of self-organized collectives around the world who believe that all of us, ordinary people, can and should take matters in our own hands. Because there's no one else.
Skills needed?
All your culinary skills will be much appreciated.
Necessary equipment?
Apron, gloves and hair net cap.
Food?
All food cooked or brought from home is shared with everyone in the club.
Health risks?
Working with people at risk requires extra attention to personal hygiene. Please bring your own pair of gloves.
Age requirements?
If you are below 18, you must present a letter of informed consent by parent/guardian.
How to participate?
Click the green "I will dio it!" button to see how to get in touch with the organizers.
// photo by Maria Panteleeva / FotoFozzie
Hero, by joining this mission, you agree that your e-mail and your name will be shared with the organizer of the mission, so that he can contact you if needed. Your data will NOT be shared with anyone else. See our privacy.
Join mission!
Stories
Once a mission you participate in ends, you can tell us how it went in a couple of sentences ("it was great" won't do).
It's simple: after the end we send you instructions - follow them. This way you earn points and rise in rank , others get inspired and we're all happy.