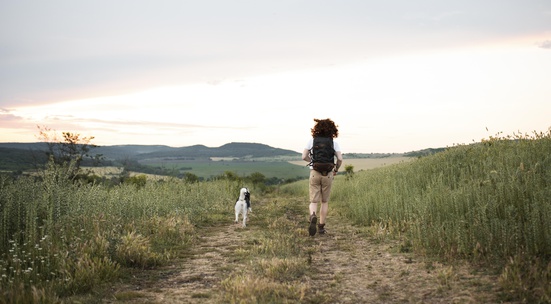 Be a volunteer at the first "dog friendly" mountain marathon in the Eastern Rhodopes
What?
Let's start with what made you click on this link - what does 'dog friendly' marathon mean? Exactly what you're thinking: you can sign up for it with your four-legged friend and run one of the three courses together - 'Wild' (60km), 'Semi-Wild' (34km) and 'Domestic' (5km).
It's organized by the Science for Nature Foundation, and if you're still thinking "but how is a dog going to cope with such distances?", the idea is the following: on each route and at each checkpoint there will be fresh water provided, as well as treats for your furry marathoner.
That's not the only idea of the race, though: the Eastern Rhodopes region is a diamond in the rough, and one of the missions of the organization is to promote it, create and develop opportunities for sustainable tourism, and give the local population access to organized sports.
The start is from Krumovgrad on the 16 October (Saturday), and this long intro leads to one question: are you that two-legged adventurer the organization is looking for to make this marathon possible?
What will be my tasks as a volunteer?
You can take part in different activities according to your availability in October:
Clear forest trails of fallen trees, branches, thorns and trash - October 2 and 3 (Saturday and Sunday)
Mark individual sections of the trail - October 9 and 10 (Saturday and Sunday)
Route marking - 13, 14 and 15 October (Wednesday, Thursday and Friday)
Support the participants at start, timing and finish; timing; food distribution - on the race day 16 October (Saturday)
Note that the organizers will drive you to the checkpoints, so you won't need to go to them.
When and where?
In Krumovgrad and the route area. You can take part in any of the preparatory activities between 2 and 15 October or on the day of the race - 16 October. Of course, you can take part on all dates.
Organizer?
Science for Nature Foundation.
Why join?
With your support, you will help the organization to promote nature-friendly cultural and mountain tourism in the Eastern Rhodopes, and you will give the local population access to organized sport. And there will also be dogs. Lots of dogs.
Equipment?
Comfortable and appropriate clothing and shoes.
Skills needed?
Communication, teamwork, courtesy and responsibility to the tasks at hand.
Physical stamina and ability to navigate rugged terrain with steep sections will also be needed for the tasks of clearing and marking the course.
Plan for bad weather?
In extreme weather the activities will be suspended.
Transport provided? No, but the organizers will provide you with a contact form for shared transport.
Accommodation provided?
There will be a secured campsite which will have a water fountain with running water and a generator for electricity. If you don't have equipment, the organizers will provide everything you need (including a tent and a mat), except a sleeping bag as it is a personal accessory.
If you prefer, you can also look for nearby hotels/guesthouses, but you will have to bear the accommodation costs yourself. You can email the organizers for advice on suitable places.
Food provided?
Yes, there will be a food pack for each volunteer.
Health risks?
As with any event like this in the mountains, it has its risks, so you need to be careful. Also keep a safe distance with the others.
Are there age restrictions for volunteers?
18+
Will I receive a certificate for volunteering?
Woof. Yes.
How do I participate?
Click the green "I will do it!" button and fill out the volunteer form.
// the photo is from here
Apply until 15 October 2021
The mission is from 2 October 2021 until 16 October 2021
Registration closed
Stories
No stories published.
Once a mission you participate in ends, you can tell us how it went in a couple of sentences ("it was great" won't do).
It's simple: after the end we send you instructions - follow them. This way you earn points and rise in rank , others get inspired and we're all happy.