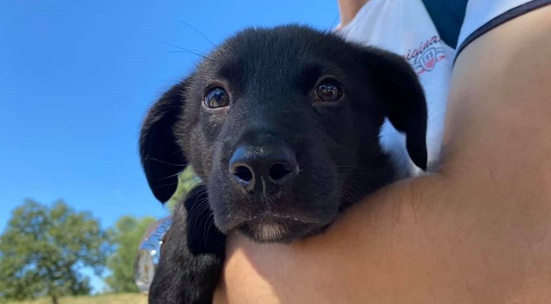 Foster a homeless puppy for a little while until adopters are found
What?
The Slatina Puppy Gang are a group of passionate volunteers who in 2019 started their mission at the municipal shelter in Slatina, Sofia. Since then a lot of people have been asking for their help when they find puppies dumped on the street.
The Slatina Puppy Gang volunteers try to take care for as many puppies as they can and they look for adopters in Bulgaria. As of 2022 the volunteers are a registered foundation, but their mission has not changed - love and care for the homeless doggies. All the puppies they've had in foster families so far, have ended up being happily adopted.
Would you like to foster a little ball of love yourself? You can give him/her a chance for a better life, as puppies who are socialized and healthy are more likely to get adopted.
What will be my responsibilities?
You will take in your home a puppy rescued from the street that is between one-month and one-year-old. You must pledge to:
take loving care of the puppy - regularly feed and walk, housetrain and socialize, take to the vet if necessary;
keep the dog inside the house, not in a yard;
bring the little fella to the Saturday afternoon Puppy Parties in the South Park to meet potential adopters and share experiences with new foster families;
accept potential adopters at your home, so they can see the puppy in a family setting;
cover expenses for food, hygiene, accessories, toys, etc.
All puppies currently looking for foster families are listed in the Slatina Puppy Gang Facebook group.
For how long?
​Puppies in foster can be adopted very fast, in a few weeks, or sometimes it takes a few months.
Where?
Sofia.
Organizer?
The Slatina Puppy Gang.
Why do it?
If you love dogs and you are thinking of adoption, but still not completely sure, fostering a puppy will give you a taste of what it's like.
Your love and care will give a little baby a better chance of finding a permanent family.
What are the requirements?
You will be asked to fill in a questionnaire and will be visited in your home by a member of the Slatina Puppy Gang to discuss all responsibilities and requirements. Basic criteria include:
You have some experience with puppies or have had a dog before.
You don't work more than 6 hours away from home.
You can keep the puppy inside the house, not in a yard.
You can socialize and housetrain the puppy.
You don't have small children in the family.
Necessary equipment?
You need to provide food and all basic accessories for a healthy puppy.
Health risks?
The puppy will come to your home after being tested for Giardia, Corona and Parvo. They will be decontaminated internally and externally. They will have had their first vaccine and they will be chipped.
Age requirements?
18+
How do I take part?
Click the green "I will do it" button to see how to get in touch with the organizer.
// photo Slatina Puppy Gang
Hero, by joining this mission, you agree that your e-mail and your name will be shared with the organizer of the mission, so that he can contact you if needed. Your data will NOT be shared with anyone else. See our privacy.
Join mission!
Stories
Once a mission you participate in ends, you can tell us how it went in a couple of sentences ("it was great" won't do).
It's simple: after the end we send you instructions - follow them. This way you earn points and rise in rank , others get inspired and we're all happy.