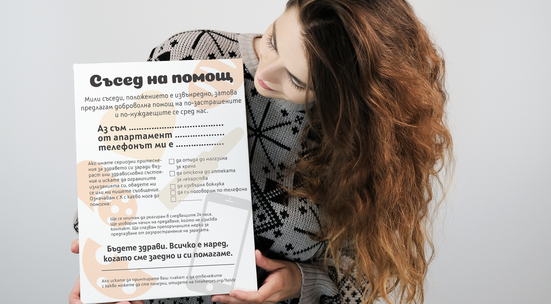 Be a super neighbour - offer help to the most vulnerable people around you
What
In the past days we witnessed hundreds of inspiring acts of support in which friends and neighbours look after each other in the current situation of social isolation.
We wish to help the spread of good and do what we can for the people who are most vulnerable to the coronavirus because of their age or health condition, and must stay home.
Be their super neighbour and offer your help with daily necessities:
go for urgent groceries or medicines;
take out their garbage;
give them a friendly phone call;
other small acts of care.
NB: Whatever it is you are helping your neighbours with, always do it in such a way that there is no physical contact between you.
How to help
Together with Borislava Madeit Illustration we created a poster to help volunteers reach out to their neighbours. Everyone who wishes to lend assistance is welcome to print the poster and pin it on the message board in their entrance.
Download the poster from the links above (PDF file).
Print it in A4 size - in color or black-and-white. Or make your own handwritten version.
Write who you are and leave a phone number.
Mark what kind of help you can offer.
Pin the poster on the message board in your entrance.
The poster file includes also a template for an additional note to your neighbour.
Share stories and photos to inspire even more super neighbours.
Organizer
TimeHeroes
When
Every day, until the state of emergency is lifted.
Protective measures
A must. Even if you don't have any symptoms, you may still transmit the virus - and elderly people and those with chronic diseases are the most vulnerable. Take care of your health and protect others by following these basic rules:
Do not volunteer if you feel unwell. Stay home.
Always wear a mask and gloves while doing tasks for your neighbours.
Wash your hands frequently and thoroughly with soap and water for at least 20 seconds or use hand sanitiser.
Avoid close contact with the person you're helping - leave the groceries in front of their door and ring the bell or call them on the phone.
Leave a note reminding them to clean the products with soapy water or disinfectant. (In the poster file you'll find a template for that note too).
Read more on how to take care of your health and protect others in the recommendations of the World Health Organization.
Some more useful info
Here's a few other things you can inform your elderly neighbours about:
All municipalities in Bulgaria are organizing home deliveries of food and medicines for people with disabilities and elderly people who live alone and have no relatives. To request home delivery for the region of Sofia, people can call 02 818 8522 or 02 818 8523. Check the numbers for your region.
If you and your neighbours have questions about COVID-19 in Bulgaria, you can use 24/7 the hotline of the Ministry of Health: 02 807 8757.
How to take part
Click the green "I will do it" button to put yourself on the list of the neighbours who help.
Hero, by joining this mission, you agree that your e-mail and your name will be shared with the organizer of the mission, so that he can contact you if needed. Your data will NOT be shared with anyone else. See our privacy.
Join mission!
Stories
Once a mission you participate in ends, you can tell us how it went in a couple of sentences ("it was great" won't do).
It's simple: after the end we send you instructions - follow them. This way you earn points and rise in rank , others get inspired and we're all happy.