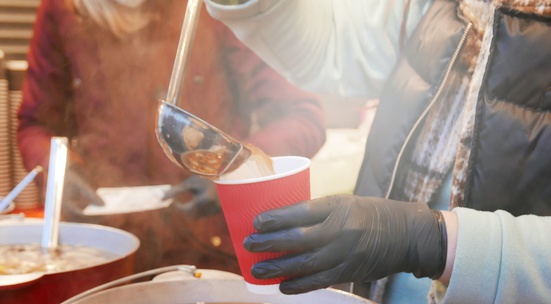 Donate food to the homeless and extremely poor people in Plovdiv
What?
Poor health, mental health issues, aging, or homelessness are some of the reasons why hundreds of people in Plovdiv are unable to provide or prepare food on a daily basis.
For over 10 years, the Catholic organization "Caritas Vitaniya" has been reaching out to the indigent, lonely, and excluded children and adults in the region.
Another long-term mission of the organization is called "Fellowship Lunch." It aims to provide meals for extremely poor and homeless people in Plovdiv, either as ready-to-eat food or any kind of food with a shelf life of at least one month. Get involved so that hundreds of people facing life's challenges don't have to do it on an empty stomach.
How can I help?
Donations of canned cooked meals and products with a long shelf life are collected, such as:
Bean stew
Beans with meatballs
Sausage beans
Chirpan-style meatballs
Tripe soup
Chicken fricassee
Chicken with potatoes
Tas kebab
Sarmi
Moussaka
Pâté or luncheon meat
Canned fish
Fresh milk (UHT)
Sugar
Salt
Lutenitsa
Pickles
Jam in a jar
Saltines
Waffles
Basic biscuits
Tea
Instant coffee/"3 in 1"
Bread
Bulgarian yogurt
Chocolate
Vacuum-packed white cheese (with a shelf life of at least one month)
Vacuum-packed cheese (with a shelf life of at least one month)
The list is indicative. You can donate any food that meets the requirement of being canned and having a long shelf life.
You can also help the indigent people in Plovdiv by providing hygiene materials, such as:
Liquid soap
Wet wipes
Shampoo
Toilet paper
Please see the detailed list and follow the availability table here.
You can also volunteer for the following activities:
Packet preparation
Distributing the donations
If you are interested, click the green "I'll do it" button and call the organizers to indicate your willingness to participate in on-site work.
When?
This mission will continue as long as there are people who need it and depend on it.
Organiser?
The Catholic organization "Caritas Vitaniya"
Why should I participate?
One lunch may not seem like much to you, but for some, it may be their only meal for days. Canned beans may not be a lot, but for some, it can be a lifeline. When you donate even a little to someone, your own bowl always seems half full.
How to participate?
Click the green "I'll do it!" button and follow the instructions.
Hero, by joining this mission, you agree that your e-mail and your name will be shared with the organizer of the mission, so that he can contact you if needed. Your data will NOT be shared with anyone else. See our privacy.
Join mission!
Stories
Once a mission you participate in ends, you can tell us how it went in a couple of sentences ("it was great" won't do).
It's simple: after the end we send you instructions - follow them. This way you earn points and rise in rank , others get inspired and we're all happy.